Private Sale of Cardano-native Decentralized Exchange (ADAX) Ends
The text below is an advertorial article that was not written by Cryptonews.com journalists.
The crypto market has faced a period of solid correction with most currencies plunging more than 50% from their recently achieved all-time highs. The only noticeable token in the top currencies that has shown grit during this period is Cardano. The ADA token has thrived in this brief recession, and held its ground. This is due to the solid foundations on which the token is based.
ADAX has acknowledged the potential of Cardano as the future of DeFi and made a project that aims to become the Uniswap for Cardano's community. This brings a whole new dimension to ADA's market that was previously missing. The need for such a project arises due to the fact that in the case of Uniswap, Ethereum's gas price is slowly increasing, and with the bull market, this price is projected to increase to hundreds of dollars per transaction in the future. Apart from that, Ethereum also has issues related to scalability as it only handles a few transactions per second. Cardano is being built on solid grounds, and through their academic approach, they are bringing innovation in the blockchain space that allows them to provide users with an ecosystem that has lower fees and faster transaction speeds.
ADAX has planned its roadmap in accordance with the developments in the Cardano ecosystem. For example, as soon as Cardano launches its Smart Contracts in the Q3 of 2021, ADAX will be pooling in the ecosystem to provide liquidity, allow ease of token swaps, and staking facilities. All in all, as a secure decentralized exchange, ADAX amplifies the use of Cardano.
Adax, the automated liquidity provider for Cardano, has hosted a private sale that ends at midnight UTC time on the 7th of June. Users can participate in this sale by emailing the team at [email protected] This is a brief window of opportunity to become a part of the next generation Uniswap. Given that the project launches fully in Q3 of 2021, the value proposition is attracting a huge number of retail investors to the private sale.
We can project the returns on the token in the long run by looking at the performance of Uniswap in its first few months. This can be seen in the graph below: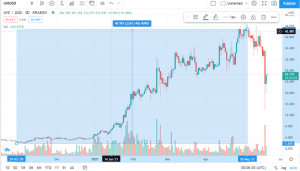 The token grew to become a market favorite decentralized exchange growing more than 30x in a small period of 6-7 months. Considering the potential of Cardano and a faster, cheaper, and overall efficient ecosystem, ADAX has the potential of not only giving the community of Cardano an amplified experience but also giving the investors a chance to ride to the moon in a bull market.