No Annual Fee on Card + New Deposit Bonus
Disclaimer: The following article is part of Cryptonews Deals Series and was written as a promotional article in collaboration with the sponsor of this offer. If your company has an exclusive promotion that you would like to share with our readers, we invite you to reach out to us. Let's build together.
Users of the cryptoasset platform BlockFi have much to look forward to: the upcoming BlockFi Bitcoin Rewards Credit Card will have no annual fee and a cashback feature, there is an ongoing stablecoin promotion with up to 10% APY, and depositing at least USD 100 in crypto can net you significant bonuses. All promotions are available for new and existing customers alike, which means that if you have been a loyal user, you will not be missing out!
BlockFi Bitcoin Rewards Credit Card
The BlockFi Bitcoin Rewards Credit Card is rolling out soon, and with the hype that surrounds it, the team has decided to remove the previously announced annual fee for the BlockFi Rewards Visa Signature Card completely! In addition to this, users who like to travel can rest easy knowing that there are no foreign transaction fees. All of this comes in addition to the already well-known 1.5% cashback feature that pays you in bitcoin.
There have been some changes to the rewards system as well: clients who sign up for the card now will receive 3.5% bitcoin back for the first 90 days, starting from the day their card is activated. This promo is capped at USD 100, which is how much you get when you spend USD 5,000—a decent extra amount to own in BTC. After you've reached the cap or the 90 days are out, your card will revert back to the 1.5% reward, meaning you will still be receiving your extra BTC when you use the card.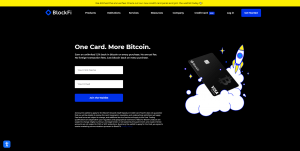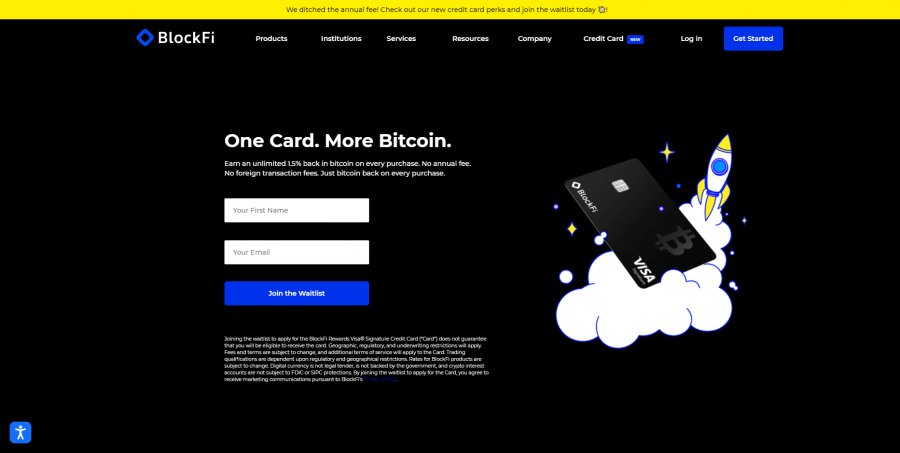 Stablecoin Promotion
The platform also has an ongoing promotion for those depositing stablecoins: until the end of July, users will receive a bonus APY boost to 10% for all stablecoins deposited in this period. These additional balances, determined by the difference between your balance on April 22nd and during the period in which the promotion runs, will be subject to 10% APY in GUSD and paid out in one lump sum on August 13th.
This is not just for the stablecoins you deposit: you will also receive your bonus APY on the amounts you trade, for example by selling coins for stablecoins. You will receive your usual APY on a monthly basis, no change, but the additional 1.4% (the difference between the existing 8.6% and the promotional 10%) will be paid out at the end of this period.
Other Perks
The advantages of using BlockFi do not end here. Here, you can open a crypto savings account with an interest rate that goes up to 8.6% — the rate will depend on the amount you've locked in, as well as the length of time. The amount is paid to you directly in BTC, as with other promos, giving you an unprecedented range of possibilities: with the trading options on the platform, you can grow your portfolio just from your savings interest.
Special deal: BlockFi is currently offering a bonus which depends on the amount you deposit. This bonus can go up to USD 250 and it is paid directly into your account in BTC.