5 Best Cryptocurrencies to Buy June 2021 Week 2
The cryptocurrency market is going through an uncertain period. After hitting a combined value of over $2.5 trillion on May 12, the cap of the entire market plunged to under $1.5 trillion on May 24.
It since recovered to $1.84 trillion on June 3, but then dipped early this morning to just under $1.7 trillion. The reason? Well, Tesla founder Elon Musk posted yet another cryptic tweet about Bitcoin. He seemingly suggested that he had 'broken up' with the cryptocurrency. This caused pretty much every major coin to decline by anything from 5% to 15%.
#Bitcoin 💔 pic.twitter.com/lNnEfMdtJf

— Elon Musk (@elonmusk) June 4, 2021
However, while his latest meme-laden tweet has upended the market yet again, here are the 5 best cryptocurrencies to buy at the moment. These should helpfully cushion holders against some of the steeper losses the market is currently experiencing. They may also provide a bigger bounce when the market swings back upwards.
Best 5 cryptocurrencies to buy
1. Bitcoin (BTC)
Yes, it may seem odd to recommend the coin at the heart of the latest downturn, but bitcoin (BTC) is still the safest haven in crypto. Compared to the majority of altcoins, it has sunk by 'only' 5.8% over the past 24 hours, according to CoinMarketCap. This compares to a dive of 7.5% for ethereum (ETH), 9% for Binance coin (BNB) and 14% for dogecoin (DOGE).
Basically, if you want to mitigate market downturns and suffer smaller dives, bitcoin is usually your best bet. It has declined by a smaller percentage — 43% — from its all-time high (of $64,804) than many other leading altcoins. This includes BNB (44.6%), DOGE (49.4%), DOT (50%) and LINK (46%).
A big part of its resilience is due to the fact that it boasts the deepest market with the most liquidity. It can therefore soak up selloffs better than most other cryptocurrencies. At the same time, it remains the only cryptocurrency that has succeeded in attracting significant mainstream institutional interest. This is why it remains one of the best cryptocurrencies to buy.
2. Cardano (ADA)
Cardano is another coin that has weathered today's storm relatively well. It's up by 1% in the past hour, as of writing. It's also down less than most other altcoins over the past 24 hours, having sunk by 7.6% to $1.66.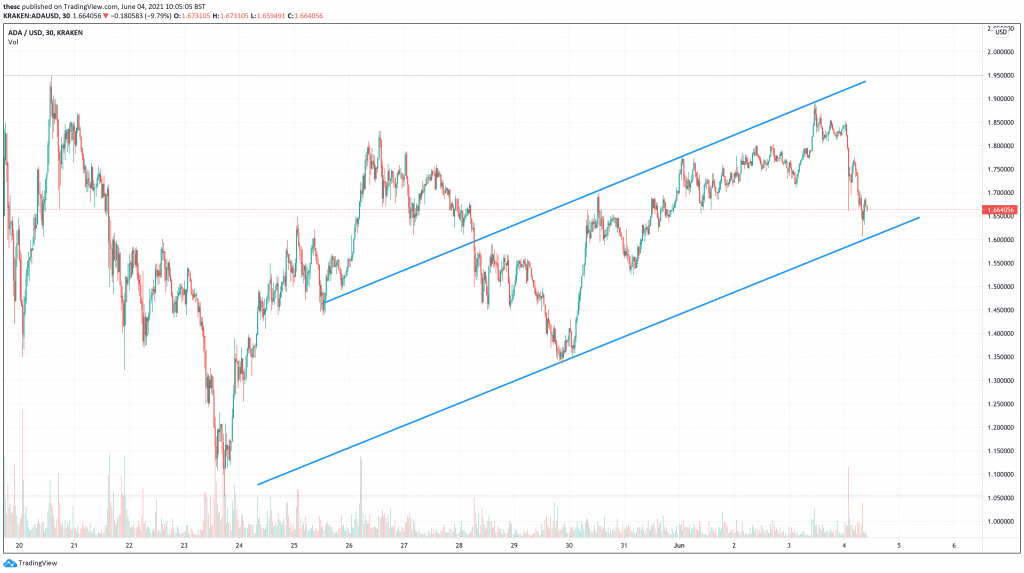 More generally, ADA has fared better than many other coins since May 12, when Tesla announced it would no longer accept bitcoin as payment. It rose to its current all-time high of $2.45 on May 16, and is down by 31.2% from this price. This is the lowest decline from an ATH of any major cryptocurrency.
Cardano's consensus mechanism is the main reason for ADA's comparatively impressive performance in the past month. It uses a proof-of-stake mechanism, which in contrast to Bitcoin's proof-of-work requires much less energy consumption. As such, many people believe it's well-positioned to benefit from the market's growing environmental awareness.
3. Internet Computer (ICP)
Internet Computer (ICP) has actually risen during the current selloff. At $113, it has increased by a modest 1.2% over the past 24 hours, although it continues to fluctuate in both directions.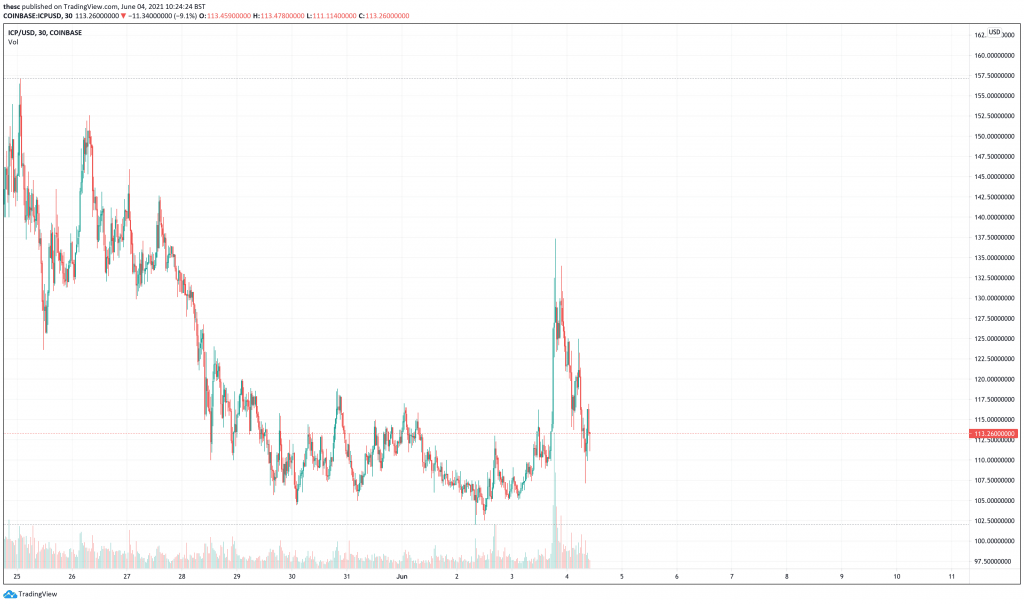 Admittedly, it remains well below its all-time high of May 10, which CoinGecko puts at $700. However, despite this decline of over 80%, ICP is another cryptocurrency that's set up well to perform in the near- and long-term. It has remained in the top ten of coins by market cap since its launch (although it has temporarily shifted to 11th on a few occasions). More importantly, its native platform has ambitious aims that could propel it higher in the coming months. It plans to create a decentralized internet that replaces traditional servers with distributed nodes, capable of running apps, sites and web services.
As such, if it attracts real-world adoption, demand for its native ICP token could expand substantially. It also doesn't use a proof-of-work consensus mechanism, so it's arguably more environmentally friendly than Bitcoin and other PoW cryptos.
4. Ethereum (ETH)
Ethereum (ETH) is another cryptocurrency that hasn't suffered as badly as others today. It has declined in price by 7.5% over the past 24 hours, to $2,646. This contrast favourably with XRP's 8.5% decline, and the 11.7% and 8.8% declines of DOT and BNB. Significantly, ETH is 40% down from its May 12 ATH of $4,356. This is a smaller drop than that suffered by nearly every other coin, save for ADA and MATIC (see below).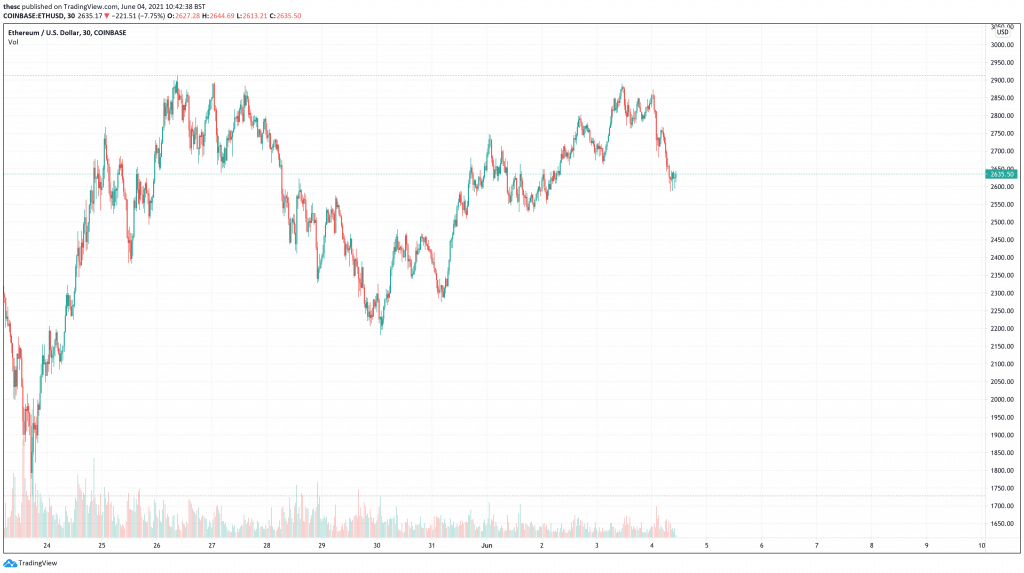 What's worth pointing out is that ethereum is up by 39% from where it was at the beginning of April. By contrast, bitcoin is down by 37%. This highlights how Ethereum is still performing well over the medium-term, buoyed by anticipation surrounding its transition to Ethereum 2.0. It also helps that the DeFi remains relatively strong, with over $60 billion in total value locked in. The influence of DeFi on ETH's price is one reason why JPMorgan analysts suggested in April that it may outperform BTC.
With Ethereum's move to a proof-of-stake consensus mechanism, circulating supply of ETH should sink in parallel with rising demand. This creates the foundation for significant price rises, and is another reason why ETH is one of the best cryptocurrencies to buy right now.
5. Polygon (MATIC)
Polygon (MATIC) is a cryptocurrency that's likely to do well in tandem with ethereum. Its native platform is a layer-two scaling solution for Ethereum, offering a sidechain that can host Ethereum-compatible applications. It has also recently launched an SDK (software development kit) which lets developers and companies build Ethereum-compatible blockchains. At the same time, many platforms are choosing to build on Polygon instead of Ethereum itself.
It's one of the strongest recoverers from today's slide. It's up by 1.6% over the past hour (as of writing), having fallen by 11.5% in the past 24 hours. Despite this large dip, it remains 133% up compared to its price from 30 days ago.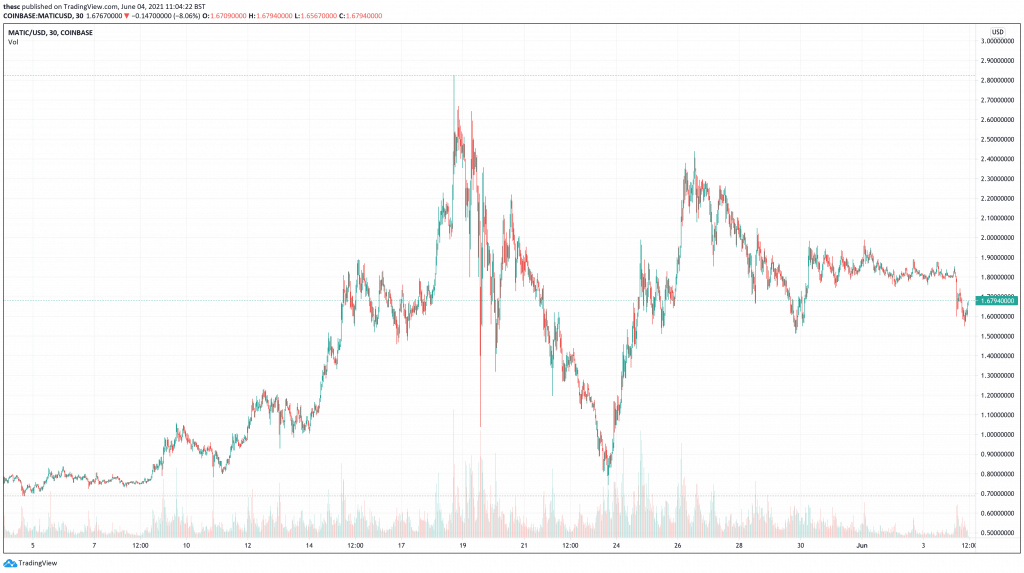 At $1.67, it's also 'only' 37.6% down from its all-time high of $2.62, which was set on May 18. This compares well to most other cryptocurrencies, indicating how the market remains interested in MATIC despite current conditions.
Looking to buy or trade Polygon (MATIC) now? Invest at eToro!
75% of retail investor accounts lose money when trading CFDs with this provider