5 Best Cryptocurrencies to Buy for Medium Term at Cheap Prices
The cryptocurrency market continues to teeter between recovery and resistance. El Salvador's new bitcoin law resuscitated the market for a couple of days, with BTC almost reclaiming $39,000. However, most cryptocurrencies have since corrected by 2% or more in the past 24 hours. Their see-sawing underlines the difficulty of calling movements at this unpredictable moment in time. Nonetheless, here are the 5 best cryptocurrencies to buy for the medium term at cheap prices.
This list covers coins which show good potential for rising over the medium-term. Given that the whole market has been slumping in recent weeks, this means they can be had right now at a relative discount.
5 Best Cryptocurrencies to Buy for Medium Term at Cheap Prices
1. Buy Bitcoin (BTC)
Bitcoin (BTC) has been the market's best performer over the last couple of days. It climbed by over 7% in a day in the wake of El Salvador making it legal tender in the Central American republic. Having hit $38,849 on Thursday (according to CoinGecko), it then slipped to just under $36,000. However, it has risen by nearly 2% since Thursday, to just over $37,000. Seeing as how it was close to $31,000 as recently as Tuesday, its performance is impressive.
Assuming that Nayib Bukele's government is serious about popularising bitcoin's use throughout El Salvador, then $37,000 is cheap for the cryptocurrency. At the same time, State Street has become the latest American bank to launch a dedicated cryptocurrency unit. It joins Bank of New York Mellon, Northern Trust and Standard Chartered, suggesting that institutional demand for bitcoin remains strong enough to support future price rises.
2. Buy Ethereum (ETH)
Ethereum (ETH) is another of the best cryptocurrencies to buy for the medium term. It also rose following El Salvador's news, but has since fallen to $2,450. Despite this, it continues to hold its value better than other major altcoins, and has very good prospects for the medium term.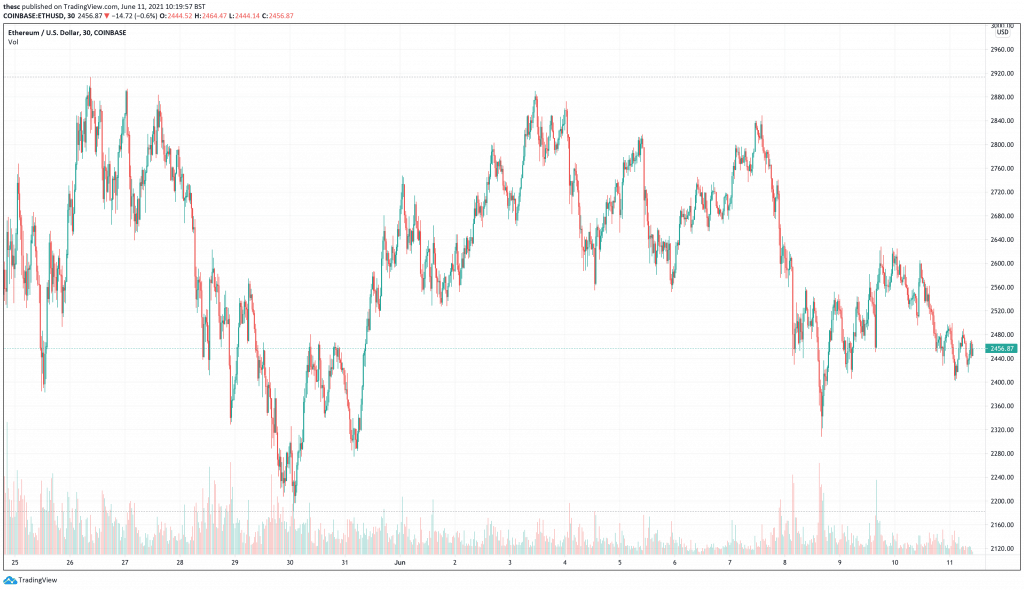 Deposits into the Ethereum 2.0 smart contract continue to rise, according to data from Dune Analytics. Holders have now staked 5.45 million ETH into the contract (4.7% of ethereum's supply).  This foreshadows the amount of ETH that users will take out of circulation once the transition to the proof-of-stake Ethereum 2.0 is complete. Some analysts have suggested that stakers could take as much as 30% of ethereum's supply out of circulation. This will potentially result in big price increases, once Ethereum 2.0 is live.
3. Buy Cardano (ADA)
At $1.52, Cardano (ADA) remains at a big discount compared to its all-time high of $2.45 (set on May 16). It rose as high as $1.62 in the wake of El Salvador news, but came down with the rest of the market. Its resistance level has declined over the past week, which is unsurprising in light of the market-wide slump. That said, its support level has picked up over the past couple of days, from $1.45 to $1.51.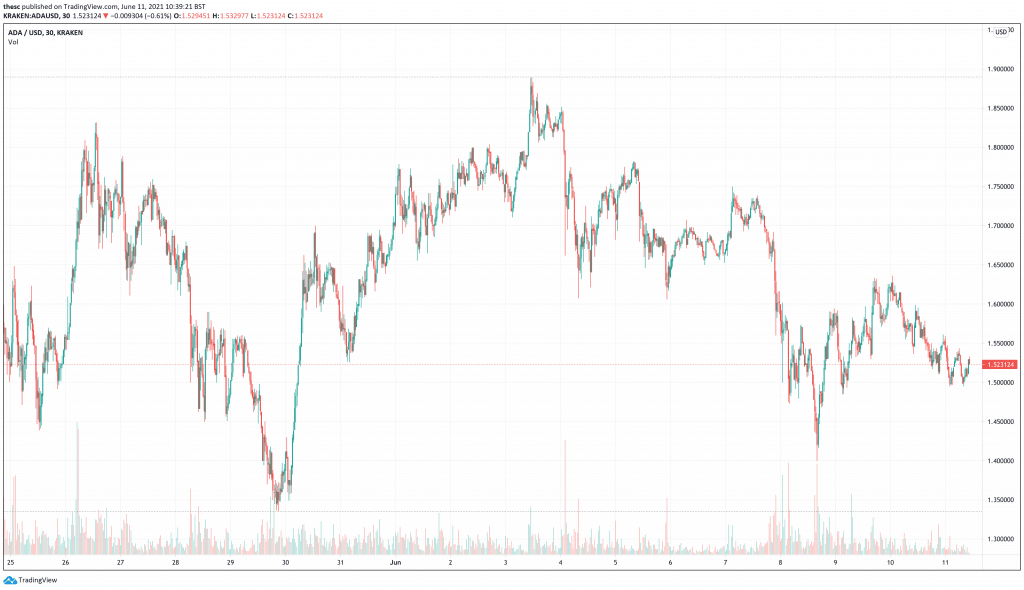 Cardano set its ATH at a time when it hasn't even launched smart contracts yet. These are due in "late summer," with the rolling out of the Alonzo upgrade. With smart contracts, Cardano will become a fully fledged DeFi platform. And as the examples of Binance Smart Chain and Polygon have shown, high Ethereum fees means there's plenty of scope for new entrants.
4. Buy Ripple (XRP)
Ripple (XRP) is definitely one of the cryptocurrencies to watch over the medium term. At only $0.87, it's very cheap, not least compared to its ATH of $3.40 (set in January 2018). It has fallen pretty much in line with the rest of the market in recent weeks. It's down by 41% over the past 30 days, with ETH and Binance coin (BNB) falling by 40.9% and 46% over the same period.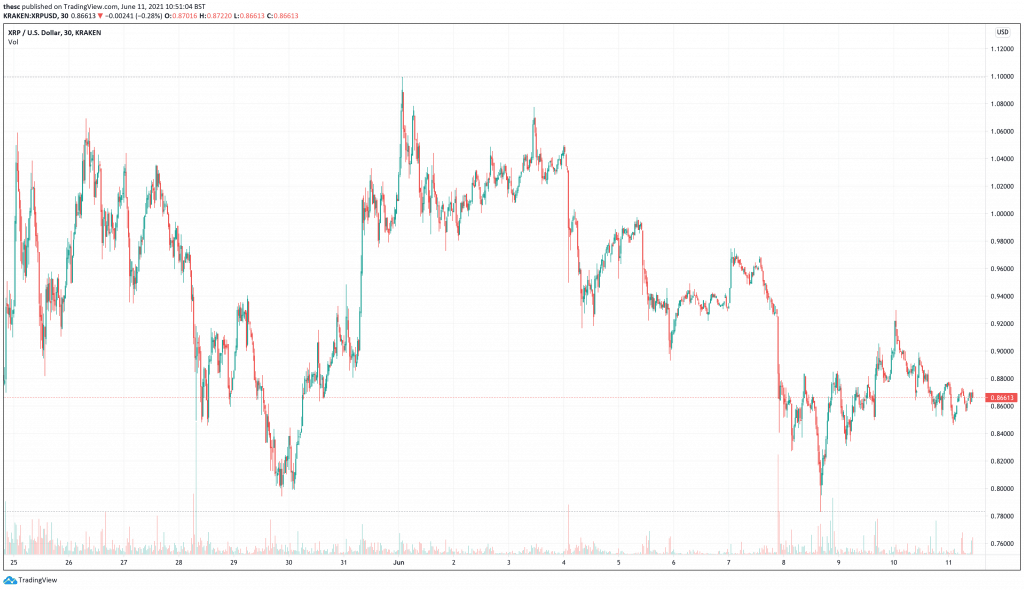 Key to XRP's medium-term performance is Ripple's ongoing with the Securities and Exchange Commission. According to crypto-focused attorney Jeremy Hogan, it has a good chance of achieving a favourable outcome.
Ripple never held an ICO because the XRP ledger was ALREADY in existence when Ripple was formed. So, prior lawsuits against companies that held ICOs do NOT tend to show that Ripple had Fair Notice that what it was doing was illegal. Ripple is making an important distinction here.

— Jeremy Hogan (@attorneyjeremy1) June 7, 2021
Likewise, other observers have noted that around 96% of all SEC cases are settled before going to trial. This raises hopes that Ripple's case will end with the company gaining some kind of vindication.
96% of all SEC cases are settled before trial (60% before lidigation & 90% in discovery). You think this "weak" case is an exception and belongs to the 4% that end in a trial?

Please elaborate.https://t.co/zZSNlW4oTK

— Stefan W. Huber 💫 (@Leerzeit) May 31, 2021
If this is indeed the case, expect XRP to rally strongly.
5. Buy Decentraland (MANA)
Decentraland (MANA) is another coin that's some way off its all-time high. Set on May 7 at $1.60, it currently stands at $0.777, a fall of 52%. The coin has fallen by 45.6% over the past 30 days, and 13% over the past fortnight. However, it has jumped by 7% in the past 24 hours. This is largely on the back of news that blockchain protocol Boson paid $704,000 for a plot of land in Decentraland, which is a blockchain-based game akin to Second Life.
We purchased LAND in @Decentraland ✨

The deal, which is the largest LAND deal carried out so far in $ terms in Decentraland, gives Boson full control over a premium block of land in the Vegas City district 🔥

A thread! 👇https://t.co/HsucksRxyr

— Boson Protocol (@BosonProtocol) June 9, 2021
Other positive news includes auction giant Sotheby's opening up a virtual gallery in Decentraland. This follows a similar move from Playboy, while Big Time Studios — the makers of Decentraland — has recently outlined plans to bring non-fungible tokens to the game. This all suggests that MANA is positioned well to rise strongly from its discounted price.